Help your teen lose weight
follow Jared as he loses weight
help your teen lose weight
Jared is 15 years old and weighs 294 lbs. At his last doctor check-up, his body mass index was 40. He is 5'11" tall. He wears a size 3X shirt.
His homeschool program requires 180 minutes of exercise per week, so we decided to begin a weight loss program along with his exercise. Jared loves to eat, but he also wants to be healthy. 
A colorful smoothie can help your teen lose weight and be just as satisfying after a workout as a slushy--and no added sugar.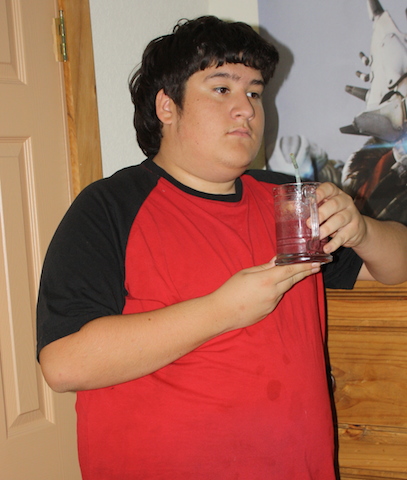 A tasty smoothie is a good substitute for soft drinks
Our Plan
1. Jared will exercise everyday from 30 minutes to 1 hour. he began this last week and with exercise alone he has lost four pounds. His beginning weight was 298 lbs.
2. Jared will not drink more than one coke a day. If he drinks one, he needs to drink at least  two glasses of water that day. He is going to drink water anyway, but he is going to have difficulty stopping cokes.
Jared is going to keep a food diary--he will write in it everything he eats each day. In the evening we will check to make sure he is eating healthy.
Jared is weighing at the same time every morning. Some people diet and weigh only once a week. He wants to know daily what his weight is.
We will have fruit sitting out for snacks. Nuts and a very small amount of dark chocolate will be allowed.
This page is still under construction
Wish us luck and follow along if you like. Any comments or stories you have are welcome. You can add them below.
Have A Great Story About This Topic?
Do you have a great story about this? Share it!