how to lower cholesterol naturally
with healthy eating and exercise
Did you ever wish it was possible to lower cholesterol naturally?  It is.
A few months ago, I decided that I needed to have a physical.  It had been many years since I had my cholesterol checked.  This is because I really didn't want to know what it was.  I have friends who have become ill from the very medicine meant to lower cholesterol, and all of my research told me that statins are not safe medication. It seems most people do not try to lower cholesterol naturally.  They feel they need medicine, side effects or not.
Many of the side effects were not listed as common.  The most common one seems to be muscle pain.  Hey, I am 76 years old.  I have aches and pains I have spent a lifetime attaining.  I don't particularly want a new ache, especially one I bring upon myself.  The list of infrequent side effects is enough to curl your hair. I have known people on statin drugs who have had some of these side effects.  The side effects may be infrequent, but I would probably be the person who got all of them.
2017: I have since read so much about cholesterol. It appears that it is just a hypothesis that cholesterol causes heart disease. There are quite a few doctors and scientists now changing their minds about this. I am reading a very informative book called, Cholesterol Clarity what the hdl is wrong with my numbers. The important thing may be something besides lowering cholesterol. I have put a link to Amazon for those of you who would like to read the book yourself. It is in the right column on this page.
stop statin drugs side effects
lower cholesterol naturally
with no statins
---
---
I could picture myself running around all day feeling nauseated, with swollen legs, so dizzy I couldn't stand up, trying to remember my name.  I could get diabetes.  Then I would have another disease to treat.  I decided the best thing for me would have been not to research cholesterol medicine, but I was already in denial as evidenced by the defiant act of rarely having my cholesterol checked. To my surprise I discovered it is possible to lower cholesterol naturally - no statins for me.
When I married in 1960, I weighed 117 pounds.  After 53 years of marriage, I weighed 187 pounds.  Through the years I have acquired back pain and a few broken leg veins, but on the whole, I feel healthy.  I am able to exercise, but if I had been using my will power I would not have gotten so chubby.
I returned to the doctor in a week and she looked me straight in the eyes, which made me a little nervous.  Eye contact is highly overrated.  I noted her demeanor, which was cheerful enough so I didn't fear the worst.

Then, she said, "Your cholesterol is 304 so I am putting you on Crestor."  She also mentioned my osteopenia and suggested taking Boniva or something.
"What!?" I replied.  "I can't take statin medicine.  I have researched this, and statins are scary.  I would rather lower cholesterol naturally without medications"  The doctor shook her head.  "Then, why did you have the test?"  She was truly perplexed.  She seemed to not understand just wanting to know what my numbers were.  I was beginning to wonder myself why I had done it.  I took a deep breath and looked her in the eyes.  It seems like bad news entails eye contact. "I want to try to lower my cholesterol with diet and exercise. Hasn't anyone ever been able to lower cholesterol without medications?" 
Her face registered mild shock and concern. At least she didn't burst out laughing. "You really can't lower cholesterol naturally very much. You can lower it a little.   You need the medicine to lower your cholesterol enough."
You can
lower cholesterol naturally with no

medication
and no side effects
I pictured myself hobbling dizzily back to her to get more medicine in spite of all of the side effects that were going to attack me.  "I would really like to try diet first," I timidly replied. "I will also try to add some calcium rich foods for my osteopenia. Of course I told her I would exercise as well."
I agreed to try on my own for three months and then come back for another test.  Only then would I consider taking drugs.  It was very hard to look in the doctor's eyes and tell her I was not wanting to follow her advice.
I went home and whipped out my trusty computer where I learned some interesting things.  I know, I know, you can't believe everything you see on the internet. So,  I read some books.  I learned that statin drugs are not treating the cause of the high cholesterol.  They are treating the symptoms.  So, if this is true, I felt some justification in saying no to the doctor.  The cause of high cholesterol appears to be living at this time in history. 
My grandmother probably had high cholesterol.  She was chubby, but she was driving when she was 90.  She loved to play canasta with her friends and family, so her mind was intact.  She didn't take statins.
Basically what I am saying is that she probably didn't have her life shortened due to high cholesterol.  She ate what she wanted.  Who knows?
Back to the computer.  I had to start a healthier diet right away.  I only had three months, and now that I was home I pictured the doctors stern face and realized that she thought I was crazy to try such a thing as dieting my way to health. 
---
I faithfully followed my plan for 3 months.
It worked
My cholesterol was lowered by 34
and
I lost 30 pounds
I learned it is possible to lower cholesterol without medications.
---
The doctor still wants to put me on statins because she wants my cholesterol to lower some more.  I am better at saying no now. I am going to stay on my diet, continue my exercise and hopefully lower my cholesterol more without statin drugs.

Now for the food plan that I am on. I am doing it alone. One of my grandsons will drink a smoothie.  He doesn't know it might have kale or spinach in it. Laugh laugh laugh.  My husband will occasionally eat an avocado sandwich, but he has mayonnaise on it and no veggies.  Well, one can only try.  The page called "Eat healthy lower cholesterol" explains the plan that I enjoyed while losing weight and lowering my cholesterol.  I believe I will continue it forever. 
I am reading a great book called Cholesterol Clarity 
 What the HDL is Wrong with My Numbers
I am learning that there is no correlation between heart disease and saturated fat intake.
Lowering cholesterol may not make a difference.
In a 2006 study published in the American Heart Journal the cholesterol levels of 136,905 patients admitted to the hospital for a cardiovascular event between 2000 and 2006 were examined. "It found that nearly 75 percent of them had LDL within the "healthy" range, and close to half of them had optimal levels below 100mg/dI....the heart attack patients in this study had what is considered healthy levels. So why are we still vilifying LDL"
The above information is from the book I am reading called Cholesterol Clarity what the HDL is wrong with my numbers?
I am so glad that I did not begin taking statins, because while reading this book I am discovering a new way that many doctors and scientists feel about cholesterol. It may not be the enemy at all. It is worth learning about.
Cataract Surgery 
May 2018: I am trying Bright Eyes by Ethos which is an eyedrop that is supposed to eliminate cataracts with no surgery. I have only used them for four days so far, and it is too soon to tell if it will work.  From what I have learned in my research, they seem to be safe. I will let you know how it turns out. I will have to take them for three months before I can be sure. There is an add on this page to the right if you are interested in checking them out.
Almost everyone of us eventually develops cataracts so I am happy to have found this and hope it works. They are not made in the United States, but come from Great Britain.

Judith
the complete guide to fasting
Visit my other pages and discover how to
have a healthier lifestyle.

Click links below
or in the menu at the top of the page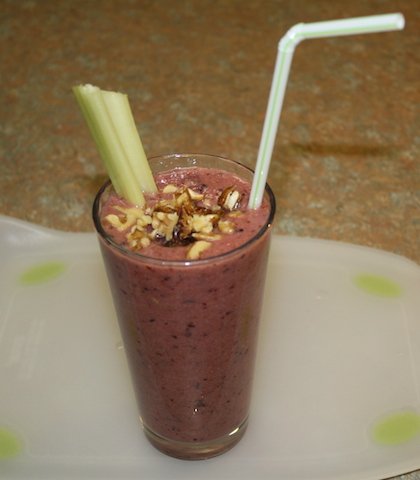 click for walnut topped smoothie that is not only healthy. It tastes good.
continue reading: Eat healthy lower cholesterol
I would love to hear from you. Just click below and leave your comments. Judith
Have A Great Story About This Topic?
Do you have a great story about this? Share it!