reading
leave your cares behind you
get lost in a good book
Ella reading The Wind in the Willows
We live in an Electronic age. Real pages or virtual pages, Reading a good book can still relax you and help you escape from your cares. Make sure to turn off any electronic distractions before you start to read.
If you saw my relaxation page, you probably noticed that I mentioned reading as a way to relax. There are many different kinds of books that I enjoy. I am going to share a little of what I read and would love for you to share your favorite books at the bottom of this page. I may find some new authors to explore.
Reading is good for you
"Books could add years to your life. In a study of 3,635 people older than 50, book readers were 20% less likely than their peers to die during the 12 year study."
"Web MD"
Reading books that make you laugh
The MIss Fortune series of books is about a female CIA assassin who has to be hidden from a gangster in the small town of Sinful, Louisiana. She meets two older female citizens of Sinful and together they get into hilarious escapades. In places it's "laugh out loud "funny. It is hard to be stressed when you are laughing.
Author - Jana DeLeon
First Book in the series - Louisiana Longshot
Jana DeLeon has another series called, The Ghost-in-law series in which a young woman is haunted by her mother-in-law. The first book is called Trouble in Mudbug.
What do you read that is funny?
There is a bookshelf in almost every room in my house
Books I really enjoy and have read more than once:
The Good Earth by Pearl Buck
Actually, almost anything by Pearl Buck
Poetry anthologies
Harry Golden, Only in America
Alas Babylon

by

Pat Frank
Good mystery writers
C. S. Harris, Sebastian St. Cyr series beginning with What Angels fear. It is good historical fiction. The first story takes place in 1811 in England. Crimes in these books can be a bit gory, but good reading.
Rhys Bowen writes about Molly Murphy who came to New York from Ireland in 1901.
There are a lot of fun mystery books that have some good recipes in them.
I secretly like action books. I have read Jack Reacher books and find them very entertaining. 
In case you are not sure what to read, here are
books my family loves:
Grandchildren:
Fangirl by Rainbow Rowell
To Catch a Pirate by Jade Parker
The Phantom Tollbooth

 by Norton Juster

The Wind in the willows

 by Kenneth Grahame

Don Quixote

 by Cervantes

Gulliver's Travel

(The full version, not the kids one) by Jonathan Swift

Hunger Games

 by Suzanne Collins - I read this series and thoroughly enjoyed it. Tammy enjoyed these also.

Dantes Inferno

 by 

by Dante Alighieri
Four quartets by

T. S. Elliot

In Memoriam

by Alfred Tennyson

The King Killer Chronicles

by Patrick Rothfuss
Grown Children: 
The Golden Spruce

 by John Vaillant

To kill a mockingbird

 by Harper Lee

Lonesome Dove

 by Larry McMurty

The Brothers Karamazov

 by Fyodor Dostoevsky

For Whom the bell tolls

 by Ernest Hemingway

Short Story - "The letter" by Aton Chekov

Any Hemingway or Raymond Carver short

Gone with the wind

 by Margaret Mitchell

The Ranger's Apprentice series by John flanagan
Dombey and Sons by Charles Dickens
Britt Marie was here by Fredrik Backman
Interview with a Vampire

 by Anne Rice

My very grown daughter has always loved The Wednesday Witch

 by Ruth Chew (Since she was very young, she has loved this book.) I am not sure if they still print it  but you can usually find a copy on Amazon.

The Bible
The Book of Mormon
The Secret Garden

 by 

Frances Hodgson Burnett
Rose Gardener series by Denise Grover Swank - first book is Twenty-eight and a half wishes.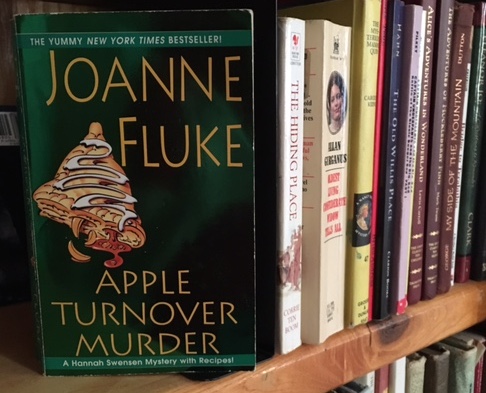 A good mystery book with recipes as a bonus
Click above for the avocado cookie recipe from the Cinnamon Roll Mystery.
Story Perception
My husband's brother just read a book named A Man Called Ove. He said it was funny and I saw him reading it and laughing a lot. I like funny books, so I started reading it. It wasn't so funny to me, but it was a wonderful character story and often brought tears to my eyes. 
We can all interpret books differently. In his defense, the back of the book mentioned that it was humorous. So it was just that I felt sorry for Ove I think. I think I might know some people who are just like him, even though it was originally written in Swedish. If you read Ove, you will want to read my grandmother asked me to tell you she's Sorry by the same author (Fredrik Bakman).
Books my friends love
Leven thumps
The Celestine prophecy
One second after
The Alchemist
Eragon series
Fablehaven series - This is one of my favorites too - My grandchildren couldn't wait for bedtime so we could finish Fablehaven. It is wonderful to read aloud.
Chronicles of Narnia
The Giver
The Pigman
illusions
Seekers
Percy Jackson
Where to find the best books
Bookstores

- Nothing is more fun than browsing bookstores.

Amazon

(for kindle or get them mailed to you)

Garage sales

- I once got ten Southern Living Annual cookbooks for $1.00 each. I have

difficulty passing

a garage sale.

Goodwill Stores

- These places are gold mines for books. I can't believe what people throw away.  Sometimes the books need to be aired out as they have been stored.

Any thrift store

-

Salvation army

stores come to mind, but there are others.
If you know another good source of books, let me know. I love reading.
Tell us what books you love. There is space below for your comments and your pictures.
Click below to tell us about your reading experiences. What are some good books we might not have heard about? 
Tell us about what you read.
What are your favorite books?