natural pain relief
Relax and enjoy life--pain free
Flaxseed for pain relief
As I researched the medicinal properties of flaxseed and the budwig protocol I learned that certain pain medication should not be used on the protocol.There are many ways to obtain natural pain relief.
There is some pain relief just from eating the flaxseed/cottage cheese.  The budwig site states, "anything that slows the natural vital functions is to be avoided, such as barbiturates and analgesics (pain killers)."  I have found that my back pain is less on the days that I eat the cottage cheese/flaxseed diet.
Not only will flax seeds help lower your cholesterol, they can help relieve pain I read that certain pain medications should not be used while cancer is being naturally cured using the flaxseed/cottage cheese diet. It makes sense that if natural pain relief works for cancer pain, it can work for other pain also.
The good news is that both flaxseed and chia seeds can aid in pain relief.  A cholesterol lowering diet with these two seeds added can help you have an active life with diminished pain.
mint for pain relief
Plant a litte mint in your garden or your flower bed. Mint is known to relieve pain.  It can be used in tea, It is easy to grow and has a pleasant aroma.
Researchers at Newcastle University in the United Kingdom say that a Brazilian mint (Hyptis crenate} has been used for thousands of years to relieve pain, 
Mint is full of antibacterial and anti-inflammatory properties. This makes it useful for more than just pain. It helps eliminate blemishes such as acne.  It also helps relieve coughs and colds and asthma.
turmeric for pain relief
I decided to give turmeric a whirl.  I found some turmeric capsuls at the health food store and took one yesterday morning.  It worked well.  Since we have been moving, I have more aches and pains than usual, but turmeric eases the pain.  
The various sites that I research all mentioned that turmeric was good for osteoarthritis.  Other ailments it can help alleviate are:
heartburn
joint pain - arthritis
heart disease risk
age-related problems
A good example of how turmeric helps can be read by clicking here at for time.com
ginger for pain relief
Ginger contains antioxidants.  Ginger has been shown to reduce pain in patients with arthritis and other painful conditions. Ginger teas are good. Ginger can be used in foods.
My favorite curried chicken
note that it contains the ginger, turmeric, and cumin
I need to try almond milk instead of cream next time I make this and of course brown rice or quinoa. It would be healthier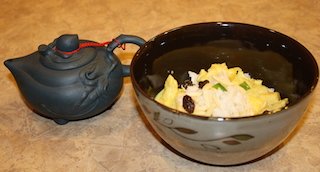 Curried chicken
| | |
| --- | --- |
| Brown chicken in butter. | Put in oven at 170 to 200 degrees to keep warm. |
| | |
| --- | --- |
| saute onions and garlic until onions are clear or lightly brown. | Combine curry and butter. Stir until smooth and add 2 cups hot chicken broth. |
| | |
| --- | --- |
| Add apples, other spices, chutney and raisins if desired. Simmer 30 minutes. During this time, make almond sauce. See recipe. | Use a deep container for blending almonds and butter with an immersion blender or use a mortar.  Then combine all ingredients in a pot. |
Use small bowls for toppings.  We have green peppers, onions, coconut, almonds, raisins and fresh pineapple. Fresh cherries are so good with curry.  Add a salad if you like and some fresh rolls. I made potato rolls.  Yes, it is a lot of trouble to make curry, but it is good.  Be sure to use good quality spices. This makes a great buffet.
Curried Chicken Recipe
Cut 2 1/2 to 3 lb. chicken into 1 inch pieces, not more than 1/2 inch thick.  Dust with flour and sauté them in 3 T of butter until lightly browned on all sides.  Remove to a platter and keep warm. 
To butter in pan, add 3 onions and 1 clove garlic--both minced, and sauté until golden. 
Melt 2 t butter, add 1 1/2 T curry powder, and stir until the mixture is smooth.  Stir in gradually 2 cups hot chicken stock. 
Add 2 tart apples, peeled and sliced, and 1/2 t each of powdered ginger, and salt. Add 1 t cumin.  Add 1 heaping t turmeric. (optional: Add 2 T chopped chutney, and 1/2 C raisins),  Adjust spices to your taste.
Cover and simmer for 30 minutes.
Chop 1/4 C blanched almonds and  sauté them lightly in 1 t butter.  Pound them  in a mortar to a smooth paste or use an immersion blender. Stir the almond paste gradually into 1/2 cup hot cream and cook the cream over low heat for 5 minutes.  
 Add this almond cream to the sauce, along with the sautéed onions and garlic and the chicken.  Then simmer the mixture uncovered, for about 15 minutes, or until the sauce is thickened.  Add the juice of 1/2 lemon; serve with cooked rice.  If the sauce seems too thick, add a little hot chicken stock.  Serve with chopped green peppers, onions, cherries, pineapples, etc.
When I make curry, my husband always works with me.  With two people, the recipe goes together quicker.  He is a good chicken and veggie chopper.
Chia seeds for pain relief
I learned that chia seeds are anti-inflammatory.  People with arthritis have had less pain after taking chia seeds for a few weeks.  Evidently it is the omega-3 in the chia seeds that helps to ease pain.
Chia seeds can help alleviate heartburn.  Instead of an antacid, take a tablespoon of chia seeds.  Wait about ten minutes and drink a glass of water.  The chia seeds will absorb the acid in the stomach and ease the heartburn.
Other natural pain relief strategies
Eat cherries - they are anti-inflammatory
Drink the pain relief drink (recipe on this page)
acupuncture
kinesiology
hot chili peppers - contain capsaicin (useful in weight loss also)
eat fatty fish - contains omega-3 fatty acids
ginger - anti-inflammatory 
papaya - contains papain - good for back pain
pineapple - contains bromeliad which activates the immune system
tumeric - curcumin
cayenne pepper

- cayenne relieves lower back pain and joint pain - great smoothie addition

apply heat - a seat heater in the car is wonderful on the back
Exercise - exercises help my back pain so much, Click here for some good lower back exercises.
eat pomegranates
bananas for leg cramps, contain potassium
Relax -

Stress and tension can make pain worse
If you are under a doctor's care and are on prescription medications, you should check with the doctor before trying natural remedies as they could interfere with your medication.
I will add more pain relief strategies as I learn about them.  If you are to truly be healthy, you need to be active.  Anything you can do to lower pain levels will help you be able to do the exercises necessary to lower your cholesterol and keep your body in top notch condition.
pain relief drink
Tastes very good
Apple cider vinegar & honey: 
1    8 oz glass of cool water
1    cap full or apple cider vinegar
2    tsp of organic honey
1    tsp cayenne pepper (optional, but good for pain relief)

Stir well and sip until it's all gone.
1/4 to 1 t of grated fresh ginger may be added if desired.

I am going to try drinking this every morning for a month to see if it will be helpful.  It is low calorie, tasty, and easy to sip on. 
Judith's pain relief smoothie
I made a smoothie with fruits that I have learned will help in pain relief.
First I peeled and chopped my pineapple and papaya,  Taste your fruit to make sure it is fresh and sweet.  Then I opened the pomegranate.  This is an excellent video for opening a pomegranate.
This is what it looks like if you open your fruit before you watch the video.  It works though,
Ingredients:
1    c pineapple, diced
1    c pomegranate seeds
1    cup papaya, seeded and diced
1    c frozen cherries
1    chopped banana
1    T chia seeds
1    T flax seeds
1    t maple syrup if desired
3/4 c water
      ice as desired
Put all ingredients in container and blend. Todays wonderful blenders totally blend even those hard little pomegranate seeds.  The color is beautiful.  Add a few nuts on top if you like and a rib of celery or just enjoy it as it.  This is a very tasty smoothie.  It is two hours since I drank mine and I am cleaning and my back ache has not kicked in.  Maybe it is my smoothie.  I would be interested in hearing from others if it helps or if it is just a tasty drink.  You might have to drink it regularly to get pain relief.  I am sure that is true about the pain relief drink above also.