peanut butter
When I first started my diet to lower cholesterol, I stayed away from peanut butter thinking it contained saturated fats so it must be bad for you.  Now I have learned that it has a 1 to four ratio of saturated to unsaturated fats. That means more unsaturated than saturated so peanut butter can help raise your HDL and help clean your arteries. Two tablespoons a day is plenty to help raise good cholesterol. 

I have added peanut butter to my diet but only as a snack. I will not be eating thick peanut butter and jelly sandwiches, although I crave this at times. If my grandchildren are having peanut butter, I have been known to sneak a spoonful and eat it. I usually get caught though. The kids say, "Grammy, is that on your diet?" I tell them it is if I only eat a small amount.  Kids will take care of you if you are not careful. It is a "Who's in charge here?" world.
Peanut butter mixed with two teaspoons of honey and up to teaspoon of cinnamon spread on a piece of toasted Ezekiel bread or Ezekiel raisin bread is quite good for you.  Peanut butter filled celery is a tasty snack.  An apple spread with peanut butter is also healthy.
One of the problems with eating peanut butter is that it is another of those foods that may have been over-processed before reaching the market shelves. Health food stores have some good alternatives.
The best peanut butter is the peanut butter that you make in your own kitchen.  I found a good recipe at kidshealth.org.  It contains unsalted roasted peanut and a small amount of peanut oil.  You can make the peanut butter without roasting the peanuts if you prefer.
healthy peanut butter treats
peanut butter and celery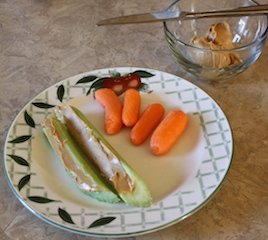 Make a healthy batch of homemade peanut butter.
Cut celery ribs to desired size.  Fill the cavity with peanut butter. Two ribs is enough to satisfy that peanut butter craving and will help you build HDL cholesterol.
peanut butter and kale
simply take a piece of kale and spread it lightly with peanut butter. Fold it or roll it and enjoy. Be sure to wash the kale thoroughly before adding peanut butter.
Peanut butter and bananas
Slice bananas lengthwise.  Spread banana and put halves together for a peanut butter banana sandwich with no bread, or just spread peanut butter on banana halves and serve.  This is a healthy treat for a child or a grownup.
peanut butter cinnamon spread
| | |
| --- | --- |
| Put 2 T peanut butter, 2 t honey and 1 t cinnamon in a small bowl. | Mix together until thoroughly combined. Spread on bread-preferably sprouted grain bread |
For a good homemade peanut butter recipe go to healthy and natural living.  I have not bought these peanuts yet, but intend to do so because I always read labels.  You could probably roast your own peanuts at home if you didn't want to use previously roasted.  
For an interesting website on sleep, visit Tuck website by clicking here.