bread
and bread substitutes
on a cholesterol lowering diet
sprouted grain bread
Sprouted grain bread is healthier to eat than other breads due to the fact that in the sprouting process, proteins and carbohydrates are broken down which increases the vitamins. Nutrients in sprouted grain breads are absorbed immediately in the body. sprouted grain breads are more digestible than traditional bread. Even though sprouted grain breads are not totally gluten free, they are easier to digest than normal bread and some people who are gluten intolerant are not affected by eating sprouted grain breads. You would need to talk to your doctor about that.

Things to know about sprouted grain 
No shortening or preservatives are used in sprouted grain breads.

You can find sprouted grain bread at health food stores, whole food stores and even at some supermarkets. It is found on the frozen food aisle. In health food stores, you may need to ask for it. 




It is not as cheap as other breads.  I keep this bread in the freezer so that it stays fresh. When I need some, I just take out what I need and toast it or leave it at room temperature to thaw.




There is a recipe on my pinterest site for making Essene, sprouted grain bread, but I have not yet tried it.  I plan on doing so soon.  It sounds easy to make. 

Ezekiel bread label lists these ingredients: organic sprouted wheat, organic sprouted barley, organic sprouted millet, organic malted barley, organic sprouted lentils, organic sprouted soybeans, organic sprouted spelt, filtered water, fresh yeast, sea salt.

You can buy sprouted grain flour if you don't have time to make your own.

The "Food for LIfe company" that makes Ezekiel bread also makes yeast free and gluten free breads. They make a brown rice bread and a multi-grain rice bread which are both yeast and gluten free. There are also tortillas and other products which are yeast and gluten free.

Essenne  and Manna bread are usually unleavened if that is something you want.

Spelt is a healthy alternative to wheat in breadmaking. It is good for you. It is an ancient grain that has not been modified.

Sprouted grain breads make good crumbs to use in recipes.
Great News - I found Ezekiel bread and other healthy breads at my local supermarket (in the freezer) so you can too. It is expensive but if kept frozen and used sparingly, it lasts a while.
There was Ezekiel bread, Genesis bread, English muffins, tortillas, and other healthy bread products. This is a sign that there are many people who realize the healthful benefits of these products.
ezekiel bread makes a great sandwich
Above you see all of the ingredients to make am avocado-veggie sandwich including two slices of ezekiel break spread lightly with coconut oil.  Add some sliced avocados, tomatoes, sprouts and kale. Yummy. Sprouted grain bread is one of the few breads I eat now.
Substitutes for bread
Great bread replacements
| | |
| --- | --- |
| | Even some restaurants serve lettuce to wrap your tasty food in instead of bread products. |
you can use sprouted grain tortillas for a wrap
you can forget the bread and wrap your filling in a piece of lettuce or kale.                 I love sandwiches wrapped in Kale. nice
I found something called oopsie bread which is made from eggs and cream Cheese (no flour). There were a few recipes for oopsie on the web. You can find one at food.com
Nori sheets which are used to wrap sushi are good for wrapping other foods also.     Nori wrapped vegetables are tasty. Nori sheets are made from strips of                       seaweed which has been shredded and pressed into thin sheets. You can even order them on Amazon if there are none in the markets close to you. 
I have seen a lot of recipes lately where a cucumber is cut in half lengthwise and       filled with sandwich ingredients.  Looks good.
My favorite is to use a roasted portobello mushroom as a bread replacement. Add some tomatoes and some avocados and whatever else you like on your             sandwich. Yummy.
Instead of peanut butter on bread, spread a small amount in celery or cut a               small banana lengthwise and spread a small amount on the banana halves and         put back together. 
There is a recipe for a breakfast casserole which uses Ezekiel bread on another site. It looks good and seems healthy. Click for the recipe - #link_2892317  It could also be used as dessert also. The website was good too as it said all the things that are true about bread.
My favorite Christmas cookies
organic flour
  I know these are         not good for you but   I use everything         NON-GMO that I
  can. It is for gifts for   my family and
  friends and they get   it every Christmas.     So click for recipes     and gift ideas.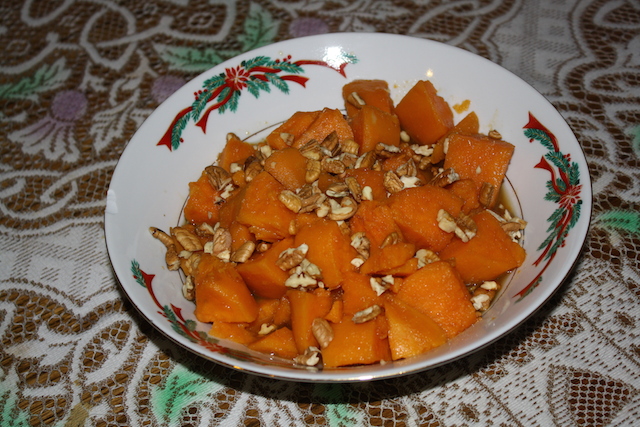 healthier sweet potatoes for the holidays
Non-GMO ingredients
Add your recipes, or comments below. I would love to hear from you.
I would love to hear from you!
Share your comments and pictures below.