gelatin

making whipped cream stabilizer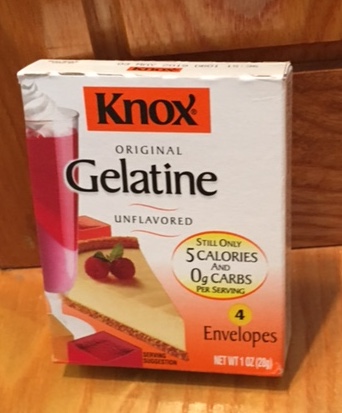 gelatin for protein and collagen for your body's health
The last time I made my flourless cake, I realized that I should find out what whipping cream stabilizer was. I always choose not to use it (honestly I had never heard of it until recently). I found out that plain gelatin can be used and that it will truly stabilize the whipped cream and it will hold it's shape longer.
I always refrigerate my cake right away and the cream stays nice for a day or two, but the cake is soon eaten so maybe stabilizer could help if we didn't eat something right away.
                                                           Recipe for stabilizer
I found out that gelatin makes a good stabilizer, and it is so easy to use.  You simply take a teaspoon of unflavored gelatin and stir it into about 4 teaspoons of water. Let this sit for about five minutes. Then microwave it for about 8 to 10 seconds so that it becomes liquid. begin beating your cream and add the sugar and gradually pour gelatin into cream. Continue beating and frost your cake or whatever you plan on doing with the cream.
What is gelatin?
I learned that gelatin is made from skin, cartilage and bones of animals so it is definitely not vegan. Gelatin is used in many candies and of course gelatin salads. If you are vegan you will want to check labels of these products. There are some health benefits to eating gelatin.
When you are purchasing gelatin, try to get gelatin that is obtained from healthy grass or pasture fed animals. 
Gelatin is a protein containing 8 amino acids. Gelatin has collagen and many people believe that is is good for arthritis and other joint related diseases. 
What gelatin is used for:
osteoarthritis and rheumatoid arthritis
good for your liver
fingernail strengthening
osteoporosis - bone strengthening
hair quality improvement
recovery from sports injuries
sleep aid
improving skin quality
Protects the digestive system from permeability
stabilizing whipped cream :)
I am sure there are more uses, but these seem to be the most well-know. Gelatin appears to be a healthy supplement for the body and adds collagen to the diet.
How do I consume gelatin
You can put it in your morning smoothie
drink it in water or juice or infused waters
make candy or marshmallows with it (okay, you are right, sugar is in these so maybe not a good idea.)
have it in your favorite stew or soup
There are so many ways to take gelatin. Be sure to read the label for instructions on using gelatin.
 Here are three  different  gelatins I  found online.  There are  more, I am  sure. Try you  local health  food store
Just make sure to look for pasture or grass fed on the label. Click on the pictures for a better view. A closer view of the label gives you a list of the important amino acids found in gelatin.
A gelatin smoothie to eat with a spoon
For years, I have thought that unflavored gelatin was difficult to work with, but it is so easy. This gelled smoothie tastes like a fruit mousse. One of my children put cream on top of hers with a cherry. I prefer the pecans. It is good any day of the week, not just on cheat days.
2/3       C mangos
2/3       C sweet cherries
1          banana
1 1/2    T lemon juice
1          T gelatin
1/4       C water
add a couple tablespoons of a healthy sweetener if you like. I love this as it is. 
I used frozen cherries and mangos but let them sit out about 10 minutes before I used them
This is more like mousse than it is jello.
Gelatin smoothie recipe:
Put 1/4 cup water in a bowl and sprinkle the gelatin on top. In two minutes it will be ready. 
While this is dissolving, put cherries, mangos, banana, and lemon juice into the blender and choose smoothie cycle. Blend. You may add sweetener if you desire.
Next, put gelatin in the microwave for 10 seconds to liquify it. Then turn on your blender and let it work while you slowly add gelatin to smoothie mixture. Pour it into 2 serving dishes. It will be set and ready to eat in just a few minutes. 
Cherry Watermelon Gelatin Dessert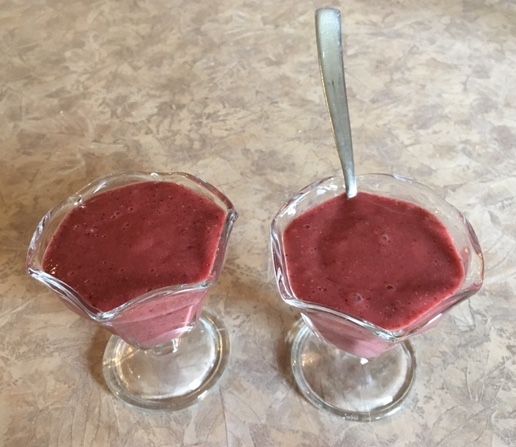 Cherry Watermelon Gelatin
Ingredients:
2    T     gelatin powder 
    1/2    C water or watermelon juice 
 1 1/2    C freshly cut watermelon
       1    C chopped mango
       1    C  pitted fresh cherries
       1    small banana
       1    T freshly squeezed lemon juice
       1    T chia seeds
2 to 3    T Non GMO organic sugar, maple syrup or desired sweetener
Sprinkle gelatin on water or juice to soften. Let sit a few minutes. Put remaining ingredients into your blender container and blend until smooth. Put softened gelatin into the microwave on high and cook for 10 seconds or until dissolved. While blending, add gelatin slowly to ingredients in blender. Pour into serving dishes and refrigerate until set and cold. Garnish as desired.