how do you feel?
With a little pizzazz, you can feel great
If you do not have the energy you would like, if you do not have the stamina you need, you can benefit by eating healthy foods and getting daily exercise.
It is so important to feel your best so that you can do the important things in your life. If you are tired or in pain, you cannot function as you would like.
So many people seem to have pain these days. There are headaches and backaches, muscle pain and aching feet. Sometimes  you need to see your doctor, other times just a few simple lifestyle changes can make all the difference. 
In order to feel the best you can, you need to eat properly and get plenty of healthy exercise. 
Pizzazz in my smoothie
I looked up the definition of pizzazz and found it means: 
energy, vigor, vitality, spirit, etc.
smartness, style, flair, etc.

I have discovered that a little cayenne pepper adds that pizzazz I need. It is good for pain and metabolism, and puts a little life into the smoothie. The following recipes contains health giving spices. 
Pizzazz Smoothie
The antioxidants and vitamins and minerals in fresh fruit are so good for you. You will begin to feel good as you consume fruit  or a smoothie every morning for breakfast.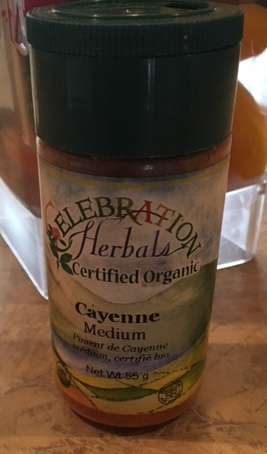 one source of "Pizzazz"
Delicious cayenne smoothie for health
This will be spicy so add cayenne to your taste.
Ingredients:
     1 cup Raspberries (for vitamin C, manganese, fiber, antioxidants....)
     1 ripe banana (for potassium, fiber, vitamin B-6....)
     1 cup blueberries (for vitamin C, fiber, sweetness....)
     1 yellow mango, peeled and chopped (for vitamin C, vitamin A, taste...
     A few slices of paypaya (for digestion, contains Vitamin C and vitamin A....)
     Kale as desired.  I use about a cup (for vitamin C, Vitamin B-6, health....)
     1/4 to 1/2 teaspoon of cayenne pepper (or as desired).
     1 C ice cubes
Put all ingredients into your blender and blend. you can put in less cayenne or more if 
you like a spicy smoothie. Cayenne pepper is good for digestion. It will get you going.
Peachy turmeric Smoothie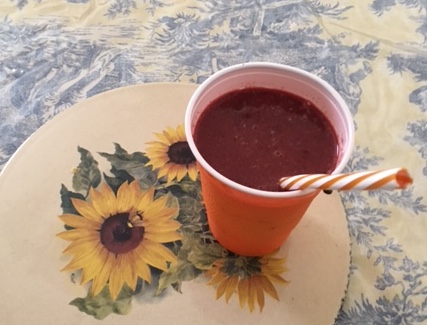 Ingredients:
 1 cup watermelon
 2 peaches (I peel them - your choice)
 1/2 cup cherries
 a few dashes of turmeric
 1 cup ice
 Put all in a blender and mix well. Garnish  with more turmeric if desired.
Spices to add a little pizzazz to your smoothie
Cayenne Pepper (contains capsaicin)- helps burn calories and improve digestion, Relieves congestion
Turmeric - anti-inflammatory, antioxidant, may help with digestion, help the body regulate insulin, ward off cancer and dementia, reduce bloating.

Cinnamon - Can lower bad cholesterol, has inflammatory properties, Can help with symptoms of alzheimer's and Parkinson's disease, antibacterial, antifungal. May reduce the growth of cancer cells.
Ginger - Can relieve digestive problems, nausea, pain reduction, inflammation reduction.
Cilantro - helps lower cholesterol and blood pressure and blood sugar, helps cardiovascular function, helps the body remove heavy metals, a good sleep aid. Coriander seeds from cilantro are also excellent in smoothies.
There are my favorites, but if you have a different favorite, I would love to hear from you. I am always open to new recipes and ideas.  Just put the comments below.
Have A Great Story About This Topic?
Do you have a great story about this? Share it!
Cinnamon Toast
I don't do sugar, but cinnamon toast seems like a great way to add cinnamon to the diet. Here is my recipe:
2 T honey (I use raw unfiltered honey).
2 t cinnamon or any amount to suit your taste.
That's it. Stir it together and spread on freshly toasted bread.  The above picture shows my grandson's toast. He has not yet tried it with my sprouted grain bread. I recommend using sprouted grain bread as it is healthier.