oatmeal for lower
cholesterol
and delicious eating
We have heard it and read it, and it is true.  Oatmeal can help lower your cholesterol.  It is felt that since oatmeal is full of soluble fiber, it removes some LDL (bad cholesterol) from your blood without affecting the HDL (good) cholesterol.
A creamy bowl of oatmeal makes a healthy breakfast.  Since I usually have a smoothie for breakfast or flaxseed oil and cottage cheese, I sometimes eat oatmeal for lunch.  It is quick to fix and tastes good.  
The American Dietetic Association has suggested substituting ground oats for up to 1/3 of the flour in recipes.  It would be nice in biscuits or breads.  I used ground oats instead of flour in in my wafflette recipe.
chia oatmeal
Recipe
1      cup water
1/2   cup old fashioned oats (organic is good)
        a sprinkle of sea salt (amount you prefer)
1/2   cup raisins
1      heaping Tablespoon chia seeds
1/4   cup almonds
maple syrup if desired (or honey)
Mix water oats and salt in small saucepan.  Bring to boil and lower to  a simmer.  Simmer to desired consistency.  Remove from heat. Add raisins, chia seeds and almonds.  Cover pan and let sit for about a minute.  Add pure maple syrup of honey for sweetening. I use about 1 teaspoon of syrup. A dollop of butter can be added at serving time. This makes 1 serving.  Double or triple as desired.
Optional: adding a 1/4 to 1/2 teaspoon of cinnamon to your oatmeal will make it Healthier. I read a study that said that cinnamon can lower blood sugar and add antioxidants to your diet. It tastes good also. 
---
types of oats
oat groats 


this would be oats with only the hull removed. these are the most nutritious but again take longer to cook. This whole grain has been touted as giving energy. They are not gluten free, but lower in gluten than wheat flour. 
oatmeal nutrition
oatmeal is more than fiber 
Oatmeal is a good source of soluble fiber but it also contains many nutrients.
potassium
protein
vitamin A
calcium
iron
vitamin B
Magnesium
no cholesterol, not any
So make yourself some tasty chia oatmeal or plain oatmeal with nuts and berries added.  It will give you needed nutrition while fighting that bad cholesterol. I have read that it can help in a weight loss program. Oatmeal appears to be a healthy menu choice.

Eating instant oats
I never eat instant oats, but they do have fiber and are only slightly higher on the glycemic index than regular oatmeal.  They have nutrients. 

The main problem is that they have too much sugar and other ingredients that you 
might not want in your breakfast. 
People eat them because they are fast, but  it doesn't not take very much time to cook regular oatmeal. 
You could make some crunchy granola, and keep it on a canister on your counter. Once it is made, it takes no time at all to pour into a bowl with some almond milk and enjoy. It is delicious, nutritious, and best of all you know exactly what is in it.

Best Crunchy Granola
breakfast cereal
EVER
When my children were growing up, I made granola and kept it in a jar on the counter for breakfast or snacking. They loved it. The small bowl of granola above is enhanced with the addition of chopped bananas, nuts, and chia seeds at serving time.
| | |
| --- | --- |
| Combine dry ingredients in the bowl, stir well.  | Put honey, water, coconut oil and coconut in a blender and blend together. Then add to dry ingredients and mix well. |
| | |
| --- | --- |
| Stir granola occasionally as it cooks. It can take up to 2 hours to dry out and toast well. | When the granola is toasty brown it is ready to use.  Cool and store in airtight jars or bags.   |
Crunchy Granola

4     C whole rolled oats
1     C sesame seeds
1     C sunflower seeds (raw)
1/2  C wheat germ (you could substitute freshly ground flaxseed)
1     C bran flakes (Health food stores or whole food stores have some healthy bran flakes         or you can substitute with another cereal, such as Uncle Sam's cereal)
1     C  coconut
1     C honey 
1     C water
1/2 to 1 C coconut oil or any healthy oil or substitute. I am going to try applesauce next time I make granola instead of oil to see it that works. I don't use olive oil as I don't like that flavor in my granola, but you might.
Optional ingredients: chia seeds, ground flax, raisins, chopped dates, sliced almonds, chopped walnuts or other fruits or nuts, your choice. Optional ingredients can be added before or after cooking. In the granola pictured, chopped almonds and a few pecans were added to the cereal before toasting. You could also just add these optional ingredients at serving time.
How to make granola: 
In a large bowl, combine oats, sesame and sunflower seeds, bran flakes, wheat germ.
In a blender, blend oil, water, honey, and coconut.  Add to first mixture. Stir well. Spread on cookie sheets (don't put on so much you can't stir without spilling). Bake at 200 degrees until toasty.  Stir often.  This makes a lot of granola, but it never lasts long at our house. Serve in a bowl with your favorite healthy milk or eat as a snack or trail mix.
*for variety use 1/2 cup grade B maple syrup instead of honey. Maple syrup adds nutrients and a very nice flavor.
I could eat this every single day. It is that good.
Cinnamon honey oatmeal cookies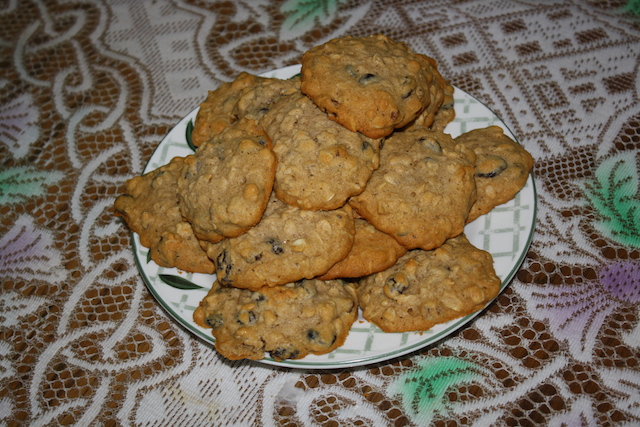 These cookies are not super sweet. I find that if a treat is less sweet, it does not make me crave more sugar loaded foods and drinks.  If you want a sweeter cookie, use 1 cup of honey instead of 3/4 and  another tablespoon of flour to make up for the added liquid. If you want it to be old-fashioned sweet add 1 cup of sugar and no honey. Just remember, it will be delicious, but not as healthy.
1 1/2 C + 1  T  flour                           1     egg (slightly beaten)
1/4               t salt                        1 1/2     C rolled oats
1                  t soda                         1/3     C buttermilk (may use water)
1                  t cinnamon                 1/2     C nuts (pecans or walnuts are yummy in this)
12                C butter                         1     C raisins (may be plumped first)
3/4 C + 1     T raw honey                   
Sift first four ingredients together.  Cream butter; blend in honey and egg. Beat until smooth. Add half the flour mixture and stir. Then stir in the milk. Add remaining flour, oats, nuts and raisins. Stir until well mixed. Drop from a teaspoon onto a lightly greased baking sheet.. Bake at 350 degrees for about 10 minutes or until browned.
They are even tastier if you add a whole cup of nuts instead of half.
| | |
| --- | --- |
| Ella with a freshly baked oatmeal cookie | Children make the best food critics. They tell the truth. One cookie in each hand is a good sign. |