strawberry banana bread
strawberry banana bread
Since I am working on lowering my cholesterol I didn't feel like I should be eating strawberry banana bread.  There is no  such thing as sprouted grain banana bread--at least not in the stores, so I decided to try make the homemade version a little healthier.

I took  my favorite recipe which is from the Farm Journal Bread Cookbook and started adapting.  I used spelt flour instead of wheat flour.  It seems to be less processed. I researched and discovered that spelt has been cultivated since 5000BC. I am not sure if older is better, but I sure hope so. I can't believe something that has been around for so long has not yet been genetically modified.
Spelt can be used to replace whole wheat and whole grain flours in this and other bread recipes.  I used it to replace regular flour. There are other flours which may be just as good to use as spelt flour.  You might experiment with some of your favorites.  I may try this with other flours as well.
I replaced the sugar with maple syrup, because I love maple syrup.  You could use another sweetener if you prefer.  This may not be sweet enough for everyone.  The original recipe calls for 1 1/2 cups of sugar.
spelt flour used in making bread
I think gentle whisking of dry ingredients incorporates air into your flour and helps to lighten the final product.
| | |
| --- | --- |
| ingredients for making strawberry banana bread | batter |
Quality ingredients make the finished bread nicer.  I use grade B maple syrup and fresh strawberries.  Bananas should have brown flecks for more flavor. You can substitute pecans or other nuts for the walnuts.
healthier strawberry banana bread
3 1/2   c spelt flour                                     1 1/2     T freshly squeezed lemon juice
3         t baking powder                                 3/4      c softened butter
1         t salt                                                      1      c maple syrup
1         t baking soda                                        3      eggs 
1         c mashed or chopped bananas         3/4      c almond milk (or your preference)
1         c chopped strawberries                      3/4      c chopped walnuts

1.    Mix dry ingredients thoroughly.   Combine bananas, strawberries and lemon juice. 
2.    Beat butter and maple syrup with a mixer until creamy. Add eggs, 1 at a time, beating          well after each addition.
3.    Add milk to butter mixture.
4.    By hand, gently fold butter mixture into dry ingredients. Do not overmix.  Fold in nuts.
5.    Pour mixture into greased pans. 
6.    Bake at 350 degrees for about an hour until cake tester or knife tip comes out clean.
7.    Cool thoroughly before cutting.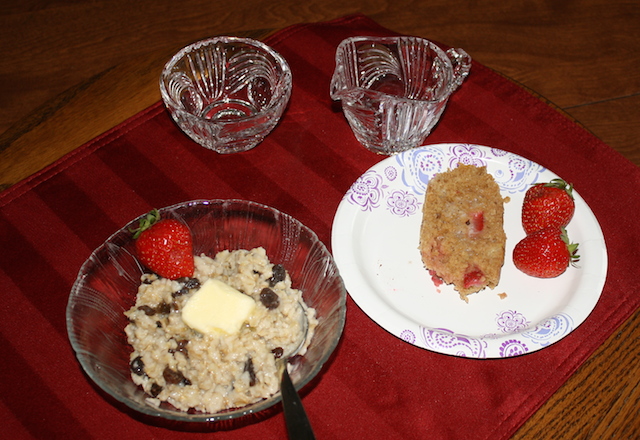 oatmeal for breakfast
This is the breakfast my husband had on the day I made the strawberry banana bread.  He loves oatmeal with raisins and walnuts.